SAMPLING HOLST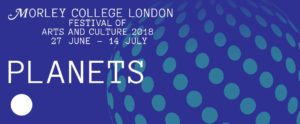 The Engine Room announces 'SAMPLING HOLST', part of Morley's The Planets Festival, which celebrates 100 years since the premiere of the ground-breaking classical orchestral work 'The Planets' by Gustav Holst, Director of Music at Morley College London at the time.
'SAMPLING HOLST' is a sampling competition which encourages the creation of new electronic works from all genres and disciplines of electronic music– dubstep to grime, experimental electronic music to techno.
Ten to twelve finalists will be selected and will receive a combination of prizes such as Solid State Logic plug-ins (worth £1,000) to audio hardware and others kindly donated by our partners. In addition to this, the finalists' tracks will be released as the first album compilation from TERM Records, Morley's new label to be launched this autumn.
The  competition finalists, selected by The Engine Room's panel of judges which includes composer and producer Gabriel Prokofiev , American DJ, record producer and composer Jeff Mills, and BBC Radio 3 presenter Max Reinhardt, will be announced at a party event at Iklectik  on 30 June  2018.
To participate in the competition, you must create a work of no longer than five minutes, making use of no fewer than seven samples from the list below.
Click here to download all samples.  To download individual samples right-click on each sample and save link as 'waveform audio'.
Mars, The Bringer of War
Venus, The Bringer of Peace
Mercury, The Winged Messenger
Jupiter, The Bringer of Jollity
Saturn, The Bringer of Old Age
Uranus, The Magician
Neptune, The Mystic
Morley is very grateful to the London Schools Symphony Orchestra for providing the recording from which we have selected the source material.
This competition and event are kindly supported by The Wire, IKLECTIK, SSL, Academia, and the LSSO.