SAMPLING HOLST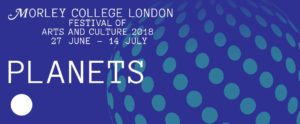 'SAMPLING HOLST', a competition ran by The Engine Room as part of Morley's The Planets Festival, helped celebrate 100 years since the premiere of the ground-breaking classical orchestral work 'The Planets' by Gustav Holst, Director of Music at Morley College London at the time.
The competition received over 60 works from around the world and across all genres and disciplines of electronic music– dubstep to grime, experimental electronic music to techno.
Twelve Finalists were selected by The Engine Room's panel of judges which included composer and producer Gabriel Prokofiev , American DJ, record producer and composer Jeff Mills, and BBC Radio 3 presenter Max Reinhardt, and were announced at a party at Iklectik on Saturday 30 June, 2018.
The finalists' tracks will be released as the first album compilation from TERM Records, The Engine Room's new label to be launched in the Spring 2019.
Competition Finalists
Ben Clayton-Wolfindale I Lived on Planet You (1st Prize)
Adrian Newton That can't be done without (2nd Prize)
Anjali Thakariya Encounters (3rd Prize)
Sean Moore Cloak of Misanthrope
Yahya Dhul-Kifl ko_2-falashhar Bruk
Miguel Ponce Lucio HOLST9000
Domenico Marfuggi Stretched Saturn
Peter Lewington Serenity
Becky Laurance Gustav's Heaven
Janine A'Bear Creature of Venus- remix
Jen Athan Collision Course
José María Rubio Jiménez Concilius Olympicus
Click here If you would like to download all the samples that artists, producers and composers used for this competition.
Morley is very grateful to the London Schools Symphony Orchestra for providing the recording from which we have selected the source material.
This competition and event are kindly supported by The Wire, IKLECTIK, SSL, Academia, Pixologic and the LSSO.