Twinkle ( 2015)
Andrea Patrick Byrne
Finalist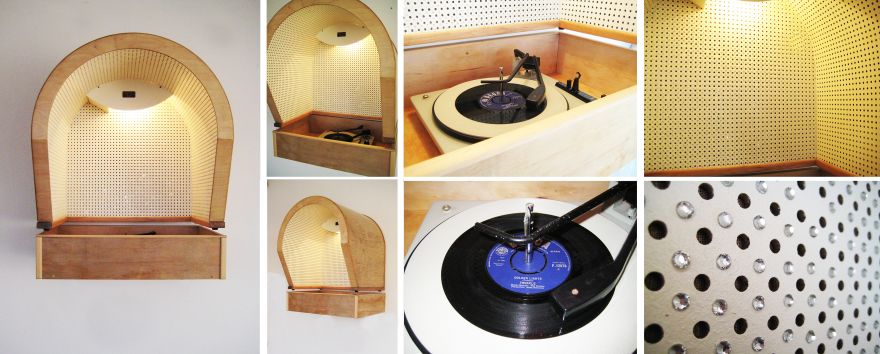 Sound Booth / shelf / turntable / 45 rpm record / perspex / Swarvorski crystals / mini speakers ~ Audio 4.28" (looped)
Taking 60s British female singer / songwriter Twinkle as a focus and using short manipulated extracts from her most popular songs "Terry" and "Golden Lights" the work addresses notions of the allure of fame and its consequences.
In 1965 Twinkle aged 16 years was the most successful female Britsh singer songwriter and the first to gain major success writing her own material. Before her 18th birthday she had retired from the music industry tired with the restraints of the record company wanting her to record material written by others. In effect her own voice was muted by the machinations of the music industry. The sound installation incorporates an original 1960's record shop sound booth, the turntable of a 1960s record player and an original 45 rpm Golden Lights pressing. The record booth itself incorporates crystals alluding to both the singers name and alluding to a supposed seductive sonorous experience. The sound itself has a purposeful feel of interruption one song crashing into another as if the listener should be copying down favourite lyrics as it slides from decades.